Leather bracelets
All the bracelets are hand made from the finest genuine leather.
Please click on the navigation bar to the left to choose between the futhark or the special leather bracelets.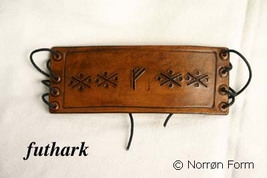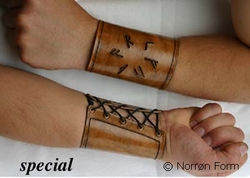 Material: Antique/black coloured leather with engraved runes and ornament.
Size: The size has some room for adjustments. Inform me about your wrist size in your order.
Light maintenance: Leather oil.
Heavy maintenance: Wash carefully surface with a damp sponge of water with a small amount of grease soluble detergent, then wash carefully with damp sponge of just water. Let dry. Use a brush to apply at least 2 layers of leather lack (let dry between each coat). Keep maintained with light maintenance.